DIY
Sprouting | in a dish
When germinating sprouts in a dish, you will need a percipient. For example soil/sand, a small hemp mat or rock wool. There are specific germinating dishes and towers out there, but a layer of wet cotton pads will suffice as well.
Just like germinating in a jar, you do not need much and you can easily grow your sprouts on your kitchen bench without having to worry about light or temperature. Within five or six days most cresses will be ready for consumption. Sometimes the germination will take a little longer, depending on the type of sprout. Because sprouts are consumed very young and before they are fully grown, they are intensely flavoursome, little taste bombs full of nutrition. For example radish sprouts are so much spicier than the regular fully grown radishes. So even the kitchen princesses and princes among us can go nuts!
Necessities
100% cotton wool balls or pads
a dish or plate
sprout seeds
How to
Most sprout seeds need to be soaked in water for a few hours. This GERMINATION CHART will show you if you need to soak the sprouts you want to use. Put a thin layer of wet cotton wool on your dish. The cotton wool can be soaking wet, as long as the sprouts are not sitting under water. Spread the sprout seeds out on the cotton wool and if necessary spray them with some water. It is vital that the cotton wool and the sprouts do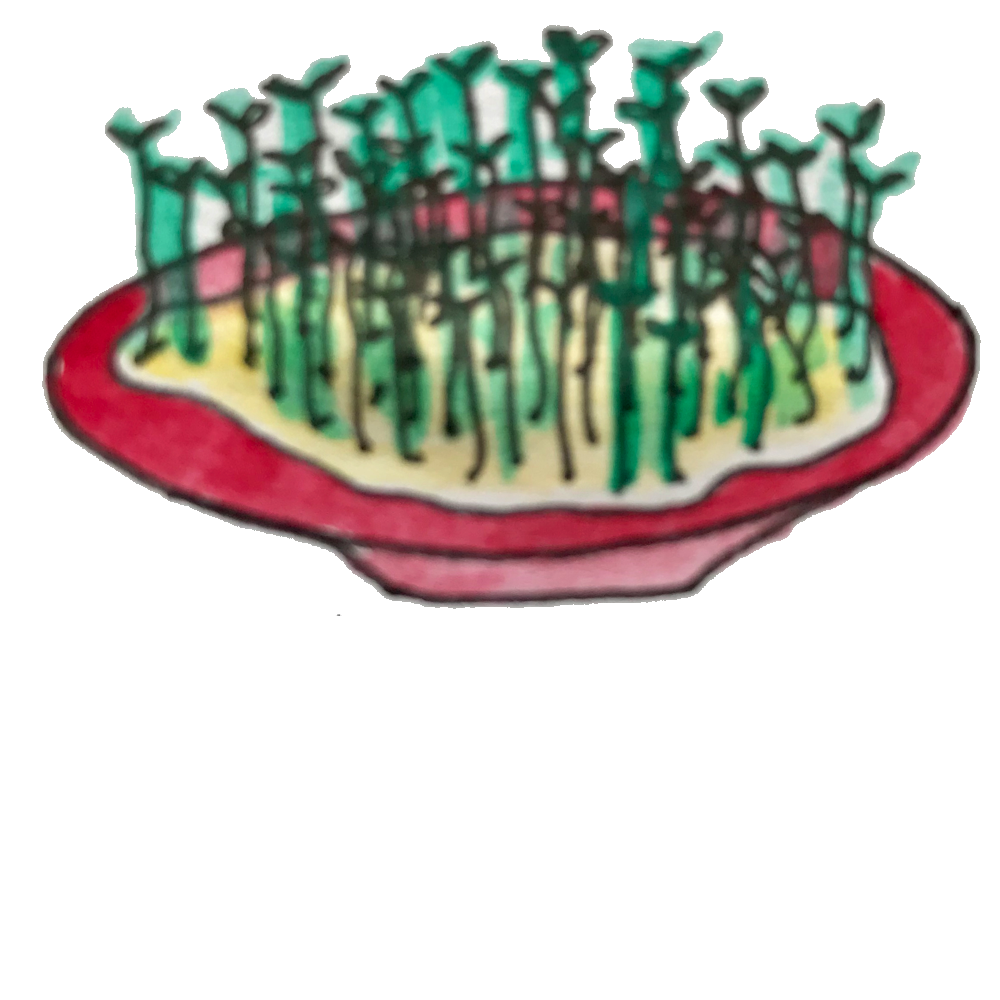 not dry out, so make sure you spray them every morning. Slowly you will see your sprouts germinate and little green stalks will appear. Keep an eye on the germination time, most sprouts can be harvested when the first two sprout leaves are fully grown. You do not need to eat or harvest all sprouts at the same time, if you continue to water them, they will continue to grow and you can take up to a week to eat them.
Epic fails
You have:
Given too much water to your sprouts: they rotted. If the sprouts have been given too much water or have been under water, they start to rot due to lack of oxygen.
Given too little water to your sprouts: they have shriveled up and dried out. Start over!

Taking forever to germinate: most types of sprouts take about 6 days to be ready to eat, but there are some, like Chinese leek, that can take up to two weeks to germinate. So make sure to check the germination chart to see how long your sprouts take to germinate. And you know: Never give up!
Bonus tips
If you are likely to forget to water your sprouts, you can use a germination dish: a glass container with a metal roster/grille on top. You spread the sprout seeds across the little roster and fill the dish with water right up to the roster. The first two days you have to check and make sure that the sprouts are not drying out, but after that you don't need to worry because the sprouts' roots are hanging in the water through the roster. The only downside to this method is if the roster is of poor quality (this has happened to me a few times!) and will start to rust. Rust is not good for our health.

Put your sprouting dishes on your dining table, they are really pretty to look at and you can look after them, harvest them and eat them at the dining table, for everyone to enjoy.

Great fun to cultivate sprouts with kids! Quick germination results excites them and they are super healthy to eat!